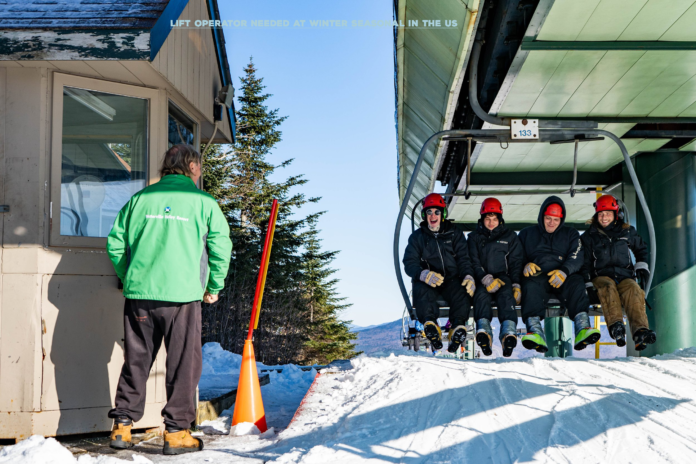 Lift Operator Needed at Winter Seasonal in the US: Due to our western tradition and friendly employees, Steamboat- Ski Town, U.S.A.® is regarded as the friendliest mountain resort in the entire globe. We take great pleasure in selecting the greatest workers and offering the best customer service in the business. We have staff who choose to work for the resort for 2, 5, 10, or even 20 years, and our employee satisfaction ratings are among the highest in the industry. A word of caution: beginning work at Steamboat could result in countless hours of enjoyment, lifelong friendships, and a strong feeling of community.
Who We Are Looking For
Friendly people who want to play in Champagne Powder, work at the top ski resort, and make friends from all around the world. We think that diversity makes us stronger and have a supportive, challenging, passionate, and devoted culture. We are seeking individuals who stand out from the crowd, exhibit these attributes, and show concern for one another, our mission, our environment, and our communities. You're ready to join our team if you enjoy offering outstanding customer service while maintaining a positive attitude. We'd love to hear from you if your ideal employment involves riding and skiing, mingling with visitors, rewarding work, free concerts, fireworks, and more!
Perks and Benefits
A Steamboat ski pass for you and any eligible dependents, competitive pay, free bus passes to nearby areas, food and beverage discounts, industry pro deal discounts, and discounted tickets for friends and family are just a few of the exciting perks and benefits that Steamboat has to offer. These benefits are subject to restrictions, reservations, and/or blackout dates. Additionally, Steamboat provides access to employee housing (depending on availability and employment status), a generous employer match for the 401(k) plan, an Employee Assistance Program, Accrued Sick Pay, and the possibility to grow professionally at Steamboat Ski & Resort Corp. All Alterra Mountain Company employees, including those in Steamboat, are eligible for reduced tuition at partner online universities.
Lift Operator Needed at Winter Seasonal in the US
You will participate in many facets of our mountain operations as a member of the Lift Operations team. Since you will play a significant role in the safe transportation of visitors up to our 2,965 skiable acres, this position is crucial to the overall operation of the Steamboat Ski & Resort Corporation. Apply if you enjoy being outside, moving quickly, and inspiring enthusiasm about Champagne Powder®.
A thorough job description that includes duties, work done, tools or equipment utilized, etc:
Guest service – greeting, welcoming, and providing information to our guests (verbally, message boards, weather, conditions, etc.)
Efficient and safe operation of the lifts
Appearance at the lift areas (maintenance of the lift houses, snow on the ramps and in the maze, employee appearance, trash removal)
Knowledge of assigned lift(s) machinery (control system, braking system, auxiliary unit)
Inspections of the lifts and areas
Complete required log sheets daily and other documents as needed
Control and organize guests in the maze
Refuse transportation to those without tickets or intoxicated individuals
Slow or stop the lift for adverse weather conditions or to avoid accidents
Familiarity with special mountain events
Knowledge of emergency plans; evacuation, fire, lift incident, lightning, unexplained stops, serious injuries, etc.
Other duties, as assigned
Minimum skills, experience, education, and ability required for this job:
Must be a minimum of 18 years of age
GED or High School Diploma required
Must be authorized to work in the US or have a valid work permit
The skill to complete snow grooming, much like landscaping
Deal with conflict and difficult situations in a busy environment
Interact and maintain positive relationships with guests, co-workers, and management consistent with Steamboat Ski & Resort Corporation's Service Excellence standards
Compliance with all company policies, safety, and procedures as well as any regulatory requirements
Physical Requirements:
Shovel, scoop and rake snow
Stand for long periods of time
Work in extreme weather conditions
Must maintain a professional well-groomed appearance
Read, write, and communicate verbally in the English language
Perform back and forth twisting motion required to load chairs or gondola cabins
Must be comfortable lifting up to 30 lbs.
Ski or snowboard experience is helpful but not required
Miscellaneous Information:
Steamboat Ski Area is Smoke-Free
These are hourly non-exempt positions and are subject to overtime pay
Positions require working weekends and holidays as needed
All Steamboat Ski & Resort Corporation employees are required to follow adapting COVID policies and guidelines.
The low and high ends of Steamboat Ski & Resort Corporation's hourly pay range for this position are represented by the base hourly pay ranges below. Based on a number of variables, including but not limited to experience, education, training, location, merit system, quantity or quality of production, responsibilities, and regular and/or necessary travel, actual payment will vary and may be above or below the range. The range indicated is only a portion of the overall salary offered to staff members by Steamboat Ski & Resort Corporation. Numerous region-specific perks as well as short- and long-term incentives are possible additional rewards.